PROMOTING PROGRESS & PROFIT
CERTIFIED BY THE FLORIDA ASSOCIATION OF CHAMBER PROFESSIONALS, 2008-2013
Buy From Members • Buy Local
| | | |
| --- | --- | --- |
| Reducing Regulations on Florida's Businesses | | |
The information below is for informational purposes only. The views & opinions expressed below may or may not represent those of the Leesburg Area Chamber.

Eliminating overburdensome regulations and reducing the cost of doing business are top priorities of the Florida Chamber of Commerce during the 2012 Legislative Session. Focusing on these issues helps FloridaÂ's economy continue its recovery, FloridaÂ's employers to create jobs and attract businesses to Florida.
Reducing and eliminating costly regulations on FloridaÂ's employers has been and will remain an important priority of the Florida Chamber. Several Florida Chamber-backed bills relating to regulation reform took giant steps forward this week in the Florida Legislature.
ANRS7 relating to Numeric Nutrient Criteria passed unanimously out of the House Agriculture and Natural Resources Subcommittee. This legislation allows Florida to govern its own waters and set standards that must be approved by the Florida Department of Environmental Protection (DEP) and the Environmental Protection Agency (EPA).
HB 639 by Dana Young on Reclaimed Water passed the House Rulemaking and Regulation Subcommittee on a 12-2 vote. This legislation is important to FloridaÂ's business community because it:
Prohibits water management districts from requiring a permit for the use of reclaimed water unless other water withdrawals are involved,
Provides that reclaimed water is an alternative water supply and eligible for alternative water supply project funding, and
Will not change how groundwater and surface water withdrawals are regulated.
SB 1354 by Sen. Detert relating Environmental Resource Permitting passed unanimously out of the Senate Environmental Preservation and Conservation Committee 7-0. This legislation reforms FloridaÂ's environmental regulations to better protect the environment and assist FloridaÂ's businesses. SB 1354 will also streamline and standardize permitting rules, thus eliminating costly redundancy and creating certainty for FloridaÂ's employers. This bill is specifically important to business because it:
Eliminates duplicative and costly agency reviews for environmental permits,
Merges similar government agency programs, and
Requires that agencies act on environmental permits faster.
HB 5501 is a Florida Chamber-backed bill that will streamline government processes and create a one-stop portal for registration and permitting for FloridaÂ's businesses. Specifically, this legislation:
Provides businesses and individuals with a single point of entry for submitting applications, remitting payments and filing various documents with state agencies;
Creates a single point of entry that will help businesses ensure they are responsive and compliant with state rules, and
Increases efficiency and ultimately reduces the cost of doing business in Florida.
To receive alerts and updates on other Florida Chamber priorities, visit www.FloridaChamber.com/grassroots.
| | | |
| --- | --- | --- |
| Florida Chamber's Insurance Coalition | | |
The information below is for informational purposes only. The views & opinions expressed below may or may not represent those of the Leesburg Area Chamber.

Passing comprehensive auto insurance reform legislation this session is a top priority for the Florida Chamber of Commerce and the Florida Chamber made great strides today by encouraging lawmakers to pass a no-fault auto insurance reform bill.

Florida Chamber Director of Business Climate Policy Teye Reeves testified this morning in support of HB 119 by Rep. Boyd - a bill that addresses PIP fraud and abuse.
Following the passage of HB 119 - Florida Chamber-backed personal injury protection (PIP) bill in the House Civil Justice Subcommittee - the Florida Chamber of Commerce joined forces with Governor Rick Scott, Chief Financial Officer Jeff Atwater, consumers and business leaders to urge the Legislature to take immediate action this session.
"I have met with many concerned Floridians across the state on this issue. They are afraid of staged accidents, they are afraid of being victims of these accidents and afraid of how these accidents can impact their insurance rates. I urge the Senate and the House to work together on a comprehensive package that will actually get to the root of the problem and address this issue once and for all," said Governor Scott. "This is a tax on Floridians, plain and simple. Because you live in Florida and have a law that has been improperly used, it costs more to live in our state. We have to fix this."
To put the brakes on the billion dollar PIP fraud, the Florida Chamber supports addressing three primary costs drivers:
Staged accidents which increased by 119% from 2008-2010,
Fraudulent claims that have given Florida the unfortunate title of being No. 1 in the U.S.,
And attorneyÂ's fees that are causing insurance rates to skyrocket because they have been hijacked by trail lawyers.
"Florida's auto insurance system has been infiltrated by a circling pool of vicious sharks looking to make their millions off the backs of consumers," said CFO Atwater. "By taking decisive action to drive down costs, we can protect Florida insurance consumers from being preyed upon."
"Florida cannot sustain the ever-growing burden of a broken PIP system. Florida families and businesses continue to take the brunt of this unresolved billion dollar problem," said David Hart, executive vice president of the Florida Chamber of Commerce. "We are hopeful and expectant that the 2012 Session will be marked by comprehensive change. We cannot wait any longer for relief from the expense of fraud and litigation abuse."
Florida Chamber Executive Vice President David Hart speaks at the PIP Press Conference in support of auto insurance fraud reform with Governor Rick Scott and CFO Atwater.
For more information on the Florida Chamber's Insurance Coalition helping to lower the cost of auto insurance in Florida, contact Teye Reeves at This e-mail address is being protected from spambots. You need JavaScript enabled to view it . To sign-up for alerts and updates on the Florida Chamber's priority issues, visit www.FloridaChamber.com/grassroots.
| | | |
| --- | --- | --- |
| February 7-8 International Days | | |
The information below is for informational purposes only.
The views & opinions expressed below may or may not represent those of the Leesburg Area Chamber.
Join Florida's International Business Community for a two day event to hear from the top international trade experts and promote the significant role international business has in transitioning Florida's economy. We have a great lineup of speakers and an exciting agenda!

Register for International Days 2012 here!
You won't want to miss this opportunity to hear from world-class international trade experts and leaders including:
Francisco Sanchez, Under Secretary for International Trade at the US Department of Commerce
Alberto Aleman Zubieta, Administrator of the Panama Canal Authority
Ambassador Gary Doer, Ambassador of Canada to the United States
There will also be opportunities to hear from Florida's elected leaders on the importance of international trade to Florida's transitioning economy:
Governor Rick Scott
Senate President Designate-Elect Don Gaetz
Speaker Designate Will Weatherford
Participants will have the opportunity to:
Meet with Florida's legislators and top decision makers to promote the importance of trade and international business
Discuss the importance of manufacturing exports and the industry's significant role in our goal to double Florida-origin exports in 5 years
Hear from experts on the future of the Panama Canal, the 2012 World Economic Outlook, trade issues and regulations affecting Florida's international business economy, and much more
February 7-8, 2012
Florida State University
Conference Center
Tallahassee, FL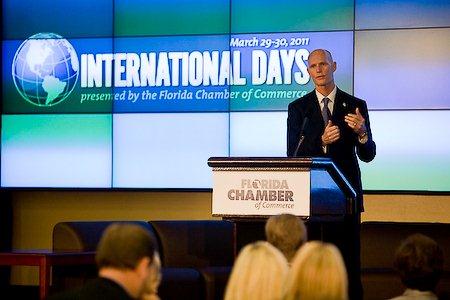 Governor Rick Scott addressing attendees at International Days 2011.

Click here to register for International Days 2012 with the Florida Chamber of Commerce!
Click here to view the agenda.

Reserve your Hotel Rooms today! The Florida Chamber has room blocks available at the following hotels:

Aloft Hotel Tallahassee
200 N. Monroe
Tallahassee, FL 32301
(850) 513-0313

Residence Inn
600 W. Gaines Street
Tallahassee, FL 32304
(800) 331-3131

Doubletree
101 South Adams Street
Tallahassee, FL 32301
(850) 521-6006

"We want to be the state where people want to build jobs and companies. We should be the import and export capital of the Southeast, if not the nation."
-Governor Rick Scott at International Days 2011
For more information, contact Leslie Snyder at 850.521.1206 or This e-mail address is being protected from spambots. You need JavaScript enabled to view it
<< Start < Prev 1 2 3

4

Next

>

End

>>


Page 4 of 4